Smart Circle is thrilled to share that our workplace has been certified as a Great Place to Work for the 2023-2024 year! It complements our seven years of Top Work Places in Orange County, California awards perfectly!
The Great Place To Work Certification is a highly respected recognition for employers who go above and beyond to create a positive atmosphere and experience for their employees. It is all based on feedback from our employees themselves.
We are so proud to have earned this world-recognized distinction. If you want to learn more about our Smart Circle Great Place to Work Certificate title, read more below. You'll also discover how we create and maintain a thriving company culture!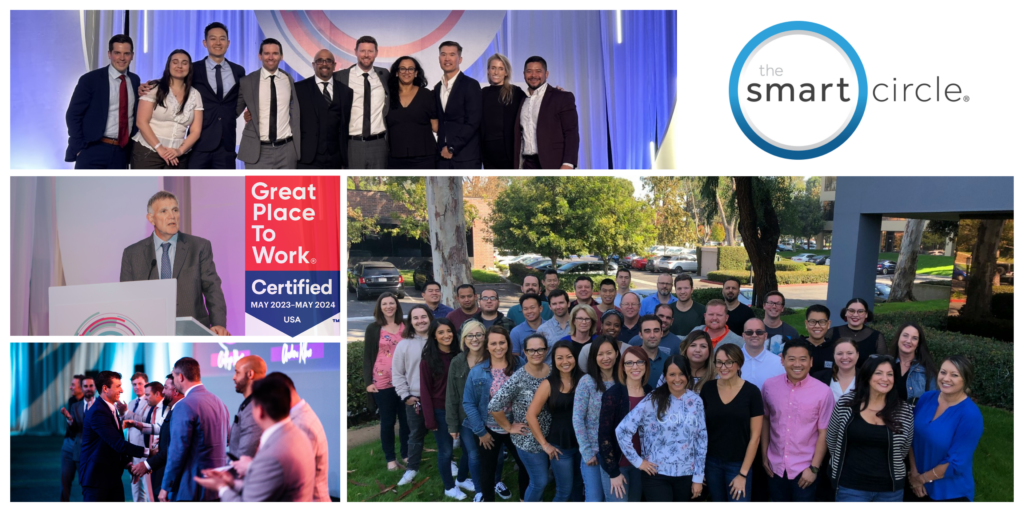 Smart Circle Great Place to Work Certificate 2023-2024
Smart Circle has always nurtured a positive workplace culture. We know that our employees are the backbone of our company and our exceptional face-to-face marketing and in-person sales campaigns. Their knowledge, skills, and experience allow us to make such a big difference for startups, small businesses, and enterprises across North America. Plus, we are constantly and consistently impressed by their passion and motivation. We are delighted that we have such an amazing team and continue to recruit top talent regularly; naturally, we want to ensure that our employees are just as proud to be a part of our Smart Circle family!
Our Smart Circle Great Place to Work Certificate 2023-2024 showcases that we strive for workplace excellence. 97% of employees confirm it is a great place to work, which is a whopping 40% more than the average American workplace!
How Does a Smart Circle Create a Great Workplace Culture?
A Welcoming Workplace
An overwhelming number of our team (99%) voted for the Smart Circle Great Place to Work Certification based on how we make our staff feel daily! They claim we make big efforts to help recruits and seasoned teams feel welcome, included, and valued regularly. We strongly believe this helps any employee thrive in an atmosphere of positivity, mutual respect, and support.
At Smart Circle, we know that creating a welcoming workplace means valuing every individual and their ideas. We recruit, hire and train top talent in fields of technology, accounting, data analysis, marketing and much more.
Additionally, it's equally important to us that everyone on our team feels respected for who they are. We strive to create a diverse and inclusive work environment that celebrates everyone's differences, cultures, backgrounds, and perspectives. It allows us to create a space where individuals can thrive and contribute their unique ideas to our creative and innovative spaces.
Our Meaningful Work
When our teams show up to work every day, they know and understand they are completing valuable tasks and accomplishing meaningful projects. Whether our professionals conduct extensive market research, develop cutting-edge marketing ideas, or onboard new clients they contribute to a greater whole. They are the driving force behind the success of both startup and Fortune 500 brands, igniting and fueling an entrepreneurial spirit and inspiring that drive in others.
Our commitment to citizenship compliments our purposeful work. At Smart Circle, we do not only help businesses across North America achieve their marketing, customer acquisition, or sales goals. We also give back to the communities and individuals around us by supporting philanthropy projects throughout the year. ; such as stuffing Joy Jars with the Jessie Reese Foundation or hosting clothing drives to benefit Working Wardrobes, just to a name a few.
As a result, 97% of our workplaces recognize that they and their peers are willing to go above and beyond at work. It all comes back to our employees knowing their work is important and everything they do counts towards success.
Our Passionate Teammates
Our workplace is truly amazing, and it's all thanks to our incredible team. Each member brings unique skills, intelligence, and a positive attitude to the table, and every teammate is eager to listen to their ideas. We all have a common goal of contributing to the success of our projects, which motivates us to work together to come up with the best ideas and campaigns. Since we take the time to listen and learn from each other, everyone feels inspired and supported by one another. The amazing teamwork truly makes our workplace feel like a family.
In addition, we create ample opportunities for our professionals to network and get to know one another. Whether it is an onboarding event, an office lunchor a retreat, we ensure everyone can hear about each other's perspectives and insights. It is an excellent way to encourage diversity and inclusivity on our team and allow it to become our company's true strength!
An Extraordinary Career
At Smart Circle, we believe a career is more than just a job. Our experiences directly impact our professional futures and contribute to our overall satisfaction. That's exactly why we invest in our employees and help them reach their full potential. We support their growth through experiences, knowledge, and skill development, which will help them confidently tackle new positions and roles.
Honest and Transparent Management
Smart Circle's management is equally esteemed, with 97% of staff feeling that our leaders embody the same commitments that the company promises to uphold: namely, entrepreneurial spirit, integrity, teamwork, and citizenship. Our managers encourage and celebrate our employees and teams that strive for these goals in their daily activities, tasks, and projects.
Furthermore, 97% of the workforce also recognizes that our leaders are knowledgeable and competent. They not only pass down excellent knowledge and offer extensive resources to our teams but are also respectful, transparent, and honest. We stay committed to creating an environment that fosters and upholds these values as we know it inspires trust and teamwork. It is one of the main reasons we continue to earn recognition for our company culture year after year.

Celebrate Smart Circle Great Place to Work Certificate with Us!
Smart Circle is happy to be certified as A Great Place To Work in 2023-2024. We look forward to upholding everything that makes our firm a wonderful place for our employees. Again, we are where we are today with their dedication and hard work, so fostering an atmosphere and environment that helps them thrive is one of our main goals.
We're excited about the future and would love for you to join us. If you're interested in learning more about Smart Circle and the opportunities we offer, please visit our careers page or reach out to us directly.