As a part of our commitment to citizenship and spreading an entrepreneurial spirit, Smart Circle recently hosted a clothing drive in partnership with Working Wardrobes, a leading nonprofit organization dedicated to empowering individuals on their journey towards finding gainful employment.
Working Wardrobes, a respected nonprofit organization in Orange County, California, provides workforce readiness tools to at-risk men, women, young adults, seniors, and veterans so they can achieve the dignity of work. The organization was founded in 1990 by Jerri Rosen. During the two-week clothing drive, the Smart Circle team mobilized and cleaned their closets for a meaningful cause. Collaborating with nonprofit organizations like Working Wardrobes is an integral part of Smart Circle's philanthropic endeavors.
Working Wardrobes focuses on empowering people overcoming challenges, such as unemployment, homelessness, and domestic violence, by providing professional attire, career development, and job placement services. Working Wardrobes serves about 5,000 job seekers in Southern California each year, and they have helped over 120,000 clients throughout the years. By partnering with organizations like Working Wardrobes, we aim to reaffirm our commitment to supporting the community's well-being and creating a positive social impact.
"At Working Wardrobes, we are passionate about transforming lives and empowering individuals at any stage of their lives hoping to enter the workforce. It is through incredible partnerships like the one we have with Smart Circle that we're able to better provide the resources people need while seeking gainful employment, such as hosting clothing drives where we can gather professional wardrobe pieces for our clients' success suits," said Bonni Pomush, Chief Executive Officer of Working Wardrobes.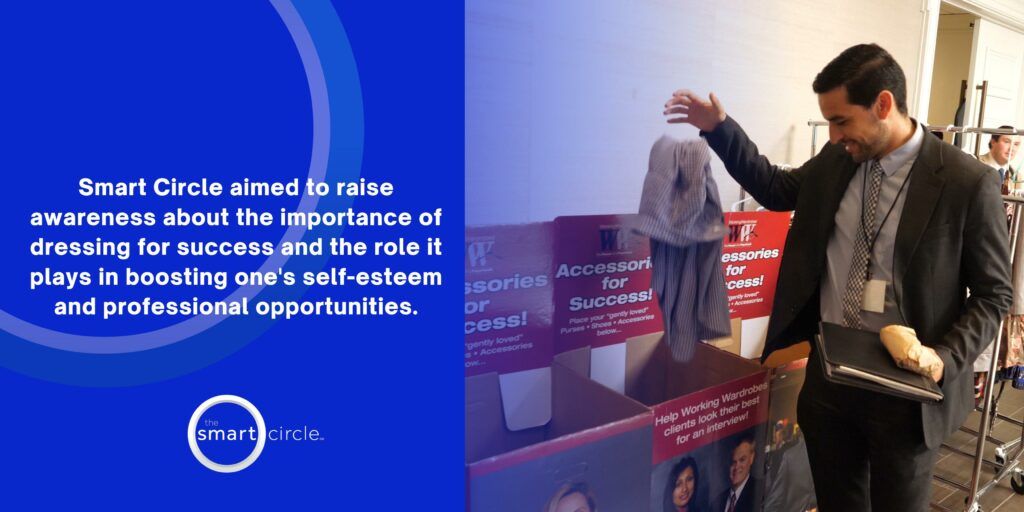 The primary goal of the clothing drive was to collect gently used professional clothing items from employees and their families. These collected items were donated to Working Wardrobes to assist individuals seeking to re-enter the workforce with confidence and dignity. Additionally, Smart Circle aimed to raise awareness about the importance of dressing for success and the role it plays in boosting one's self-esteem and professional opportunities.
The clothing items donated that did not go directly to job seekers were taken to one of Working Wardrobes' retail locations. From there, the items will be sold, and one hundred percent of the retail profits will go to fund Working Wardrobes' additional services and programs. From last year alone, the profits from Working Wardrobes' retail locations helped support 1,100 of their clients.
The clothing drive fostered a sense of community and camaraderie, strengthening the bonds among employees and Smart Circle's commitment to social responsibility. Our team enthusiastically participated in the clothing drive. We recognized the significance of contributing to the empowerment of individuals striving to overcome personal and professional challenges.
"Positively impacting our community and having an entrepreneurial spirit are two of Smart Circle's driving core values. It was incredible to have the opportunity to give back to an organization that aligns with our values and has been serving Southern California for over 30 years," said Michelle Morales, Director of Human Resources of Smart Circle.
The impact of a well-fitting, professional outfit extends beyond just appearance. For individuals seeking to reintegrate into the workforce, we learned that it can be a transformative experience. A well-suited outfit can instill confidence, enhance self-image, and positively influence job interview outcomes. We hope that our clothing drive directly contributed to empowering these individuals, helping them take significant steps toward their professional goals.
Our employees collected a substantial number of clothing items, including suits, blouses, dress shirts, and accessories. The generosity of everyone involved highlighted the shared values of compassion and empathy within the Smart Circle community.
The collaboration with Working Wardrobes provided Smart Circle with the opportunity to directly impact the lives of individuals on their journey to self-sufficiency. The donated professional attire will help equip these individuals with the tools they need to present themselves confidently in job interviews and professional settings.
The success of the clothing drive has motivated Smart Circle to continue its commitment to citizenship. The company plans to explore more partnerships with nonprofit organizations and engage in community-driven projects that create positive change.
The successful clothing drive organized by Smart Circle in collaboration with Working Wardrobes exemplifies the company's dedication to making a positive impact in the community. The clothing drive not only provided practical support to individuals seeking to re-enter the workforce but also fostered a sense of shared purpose and compassion within the Smart Circle family. Through initiatives like this, Smart Circle hopes to demonstrate that businesses can play a vital role in creating a brighter and more equitable future for all.
If you're interested in learning more about Smart Circle's company culture and the opportunities we offer, please visit our careers page or reach out to us directly.