There's no doubt about it: the rise of technology, online tools, and social media dramatically altered how businesses market and sell to potential customers. Yet, digital ventures are not your only option and they certainly are not the most effective way to increase sales. Face-to-face marketing and in-person sales are still the best ways to attract, and delight customers. In fact, in-person sales benefits exponentially increase due to the online norm.
When sales professionals can interact directly with prospects, they make businesses stand out and offer unique customer experiences. Let's take a look at the main ways in-person sales deliver extraordinary value to customers and brands.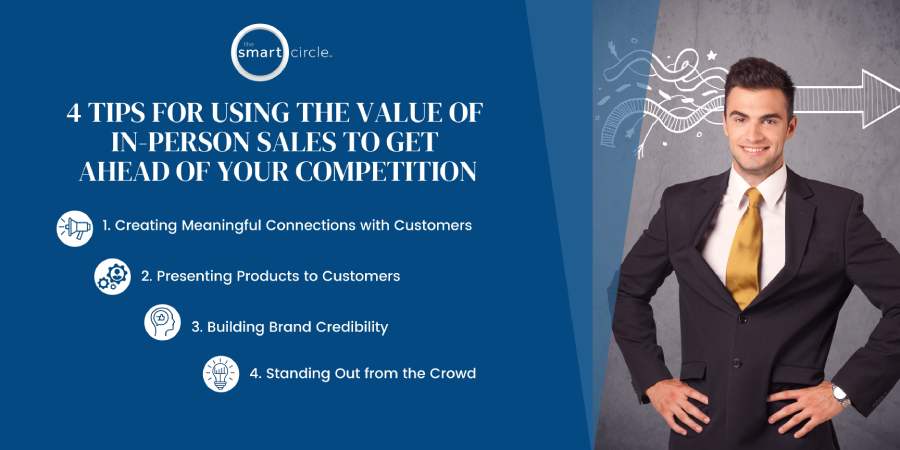 1. Creating Meaningful Connections with Customers
In-person sales are an excellent way to make meaningful connections and strengthen brand relationships. Marketing teams and sales professionals can accomplish this in multiple ways during an interaction.
Understanding the Client
Marketing teams perform extensive consumer research to find out about their target audience. Then, they tailor sales scripts to their customers' needs, desires, problems, and goals. While sales professionals interact with their prospects one-on-one, they have the ability to adapt to the specific individual. During this consumer interaction, sales professionals can read how the individual is acting and responding at the exact moment and react accordingly.
They can change their script, approach, tone, or body language to align with the customer better. Additionally, they can ask questions to learn more about the customer and use that information to spur a successful outcome. In this way, the value of in-person sales over other types of marketing is clear. It allows for understanding of an individual and context, leading to genuine connections and long-term relationships.
Communicating Shared Values
Most relationships are founded on shared values; you can find that to be true in friendships, romantic unions, and familial relationships. Likewise, customers want to know that they are on the same page with a brand. It helps them feel confident  about their purchases, and it also allows them to establish an emotional connection with businesses.
Communicating shared values with media is hard, as exposure is often quick. You may be able to portray specific values through text or images. Still, it is impossible to know if a prospect infers it correctly or understands it to be a common value. Face-to-face sales present a very different opportunity. Sales professionals get to know a prospect, so they can frame the values in the best possible light for that individual.
Staying Present
Most online media consumption is passive, meaning users simply scroll and scan content. It is similar to traditional advertising, such as on television, radio, or in magazines. While it is possible to make sales from these methods, it does not mean there is a relationship with the client.
One of the strongest in-person sales benefits is that the interaction is active. The prospective customer and the sales professional lock into the moment and give all of their attention to each other. Since this is the case, customers will form a positive connection with the company and recall the product that much better.
2. Presenting Products to Customers
Many companies have great products that satisfy consumers' needs better than their competitors. Yet, they cannot get their merchandise out to their audience via traditional means. Here's where in-person sales can shine, especially if working with an outsourced broker with an established wide-reaching network and large-scale resources.
Reaching Target Customers Directly
Marketing teams examine consumer buying behavior, finding prime locations for intercepting the target audience. It may be setting up in a reputable retail store, knocking on their door, canvassing a business, or promoting at a corporate event. Prospective customers are either considering their needs or trying to achieve their goals in these moments – the perfect time to show them your company can help with that; likewise, they may be in a peak shopping mentality, allowing professionals to make a sale right away.
Helping Customers Understand Product Value
Additionally, sales professionals can provide a product demonstration or offer free samples. Prospective clients can see the product up close and personal, quickly understanding the key value propositions. Since individuals can pick up on the advantages for their own goals as well as how the product compares to competitors, they are more likely to purchase the product.
In-person product demonstrations allow for audience participation. Prospective customers can ask questions or test the product out for themselves. In this way, clients can understand precisely why they, personally, need the specific product. In this way, businesses can see and reap the value of in-person sales.
3. Building Brand Credibility
One of the reasons that small to medium-sized businesses need help making sales is that customers are wary of unknown or unrecognizable brands. Unfortunately, traditional, and digital advertising methods cannot change these impressions to a great extent. However, in-person sales can and does! Accordingly, it does not only result in immediate sales; it builds brand recognition and credibility, leading to more sales over time.
Developing Immediate Trust
If businesses use an outsourced sales broker, they can set up displays and demonstrations in well-respected companies. Consumers are more likely to respect and trust brands by the power of association. Furthermore, highly trained sales professionals initiate conversations, provide information, and answer questions. Since they are confident and knowledgeable, people will perceive them as more trustworthy than traditional or online advertisements.
Keeping Promises
When the product performs as promised and the company continues to treat its customers as valued clients, businesses further boost their credibility. Satisfied clients will not only come back for more products but also promote the business through word-of-mouth or online reviews. In turn, this leads to increased organic sales and customers.
4. Standing Out from the Crowd
In-person sales are a perfect way to stand out from other companies, as most turn to digital marketing and sales as their primary form of reaching customers. This is not only distinct in terms of approach; it also changes how customers feel and experience the brand.
Cutting Through Digital Noise
Digital device users are constantly bombarded by online advertising, whether simply using a search engine or scrolling social media. They are accustomed to companies approaching them in a certain way to sell their products or services; in most cases, it blends in with other companies doing the same. In contrast, in-person sales are energetic and engaging. Most of all, it is personal, appealing directly to a target group, and curated for the specific individual. Since this is the case, any individual will remember the business as unique.
Changing Feelings and Experiences
Traditional advertising methods do not build brand relationships or experiences. So, prospective customers may not know how to feel about a specific company, or they may have a lackluster prescription of the business. The greatest in-person sales benefits are that prospects encounter empathetic conversations, human responses, and brand connections. It motivates them to become and stay loyal customers.
Maximize In-Person Sales Benefits with Smart Circle
At Smart Circle, we understand that your primary goal is to attract more customers, retain your clients, and generate as many sales as possible. We develop personalized, face-to-face marketing campaigns carried through by expert in-person sales professionals. We inform, engage, and delight customers, encouraging them to purchase your products and experience all business offers. Ready to start? Contact us today!