With 2014 just dawning, Smart Circle International has certainly awoken on the right side of the bed after being selected for recognition as a Kroger Central Division, "Vendor of the Year" for 2013.
One of the world's largest grocery retailers, Kroger divisional merchandising staff were asked to nominate vendors based on several key performance criteria, as well as general cooperation and enthusiasm toward achieving mutual goals.
Smart Circle International couldn't ask for a better way to greet the New Year than recognition for contributions to Kroger Central Division's growth and success!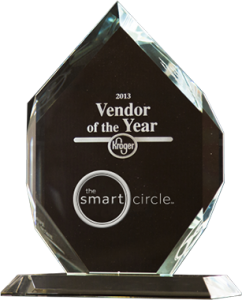 Following a special dinner for recognized vendors, Jimmy Stone, Senior Vice President of Business Development for Smart Circle accepted the award on behalf of the entire Smart Circle team.
Congratulations to all those involved in the Road Show program. It is the dedication and professionalism of each individual that creates honors like this for the entire company!