As October begins and we roll into the fourth quarter of the year there is always a sales push in most retail industries to end the year on a high note.  This month marks the start for a busy time for our clients, retail partners and Smart Circle. Even though things are getting hectic, something other than sales rivals for our attention in October – a campaign close to us here at Smart Circle – Breast Cancer Awareness Month.
Breast Cancer Awareness Month has a few different focuses. The first of course, is to raise awareness about the disease. The second is to remind women about the importance of self-examinations, which can lead to early detection. Finally, Breast Cancer Awareness Month is the time when we highlight fundraising efforts. It is towards those fundraising efforts that we'd like to draw attention this month.
We are proud to say that in September, Smart Circle donated $500,000 to The Breast Cancer Research Foundation® (BCRF) as part of the FW1 Pink Promotion.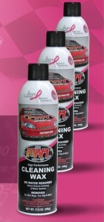 Even more exciting, since Smart Circle partnered up with RGS Labs in January of 2013 to create the FW1 Pink Promotion, we have been able to donate a total of $3.5 million to BCRF.  Click Here to learn more about the FW1 Pink Promotion.
Our hope is that through the sale of specially marked cans of FW1 waterless car wash and wax products, we can not only contribute funding to help find a cure, but also help increase awareness, and participate in prevention and early detection efforts.
For ideas on how we can all "think pink" check out BCRF's #BeTheEnd campaign for Breast Cancer Awareness Month and throughout the year.
You can also find us on Facebook, Twitter, LinkedIn, and Instagram.