All businesses have a shared predicament when designing and implementing successful marketing techniques: How do we catch our customers' eyes quicker and more effectively than our competition? Face-to-face marketing is one of the best ways to draw your customer's attention, as genuine human interaction and in-person contact is rare in today's business-consumer world.
At Smart Circle, we use many in-person channels for marketing your company and selling your products.. With unmatched expertise and experience, we hold that most companies can benefit from one or a few select event marketing types. This short and informative guide will explain these three coveted marketing types and why they could work for you.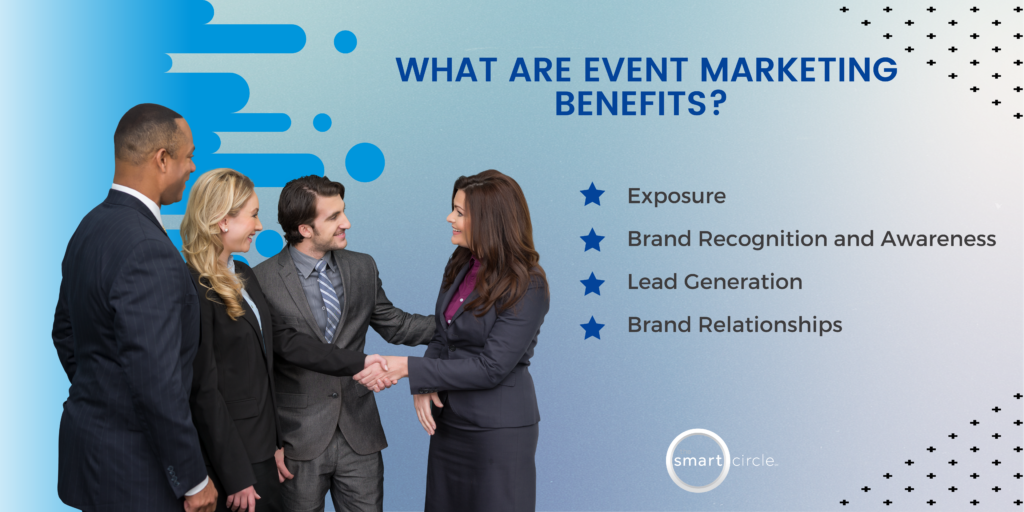 What Is Event Marketing?
Event marketing is an in-person method delivered through events and exhibitions. They are unique because they directly engage your consumer, developed with your specific target customer in mind… Marketing and sales professionals directly engage and appeal to your target audience, enveloping them in a short brand experience and giving them a sense of your brand, values, and products.
What Are Event Marketing Benefits?
When you have an excellent event marketing strategy, you will surely attract more first-time buyers and repeat customers. It can positively affect many different aspects of your business to pull this off, namely:
Exposure: Events get your company name out to the right audience. Marketing brokers or professional marketing teams can deliver events in targeted areas, reaching your select audience. Furthermore, while your target consumers attend the event, they will likely engage in organic marketing for you. They may post about your event on social media or tell colleagues about their experience.
Brand Recognition and Awareness: Your company name, logo, and messaging contribute to brand recognition. Yet, what truly cements you in the hearts and minds of your consumers is an emotional, informative, or fun experience. A targeted, personalized event is the best way to start forming the foundation for brand awareness.
Lead Generation: Sales professionals are extensively trained to create customers from one-time interactions. However, sometimes, it just doesn't happen! Rather than employ negative marketing techniques, such as high-pressure sales, experts rely on creating promising leads and following up promptly. Events are a great place to find high-quality leads, as they generate enthusiasm and intrigue.
Brand Relationships: Event marketing allows you to start relationships with your customers genuinely. They offer your customers an accurate picture of your company and brand without being pushy or overbearing. Rather, they showcase your values, provide extensive information, and offer freebies or discounts.
Product Launches: If you have a new product or line of products, event marketing benefits product launches well. They can generate hype, spread the word, and increase sales.
3 Best Event Marketing Types: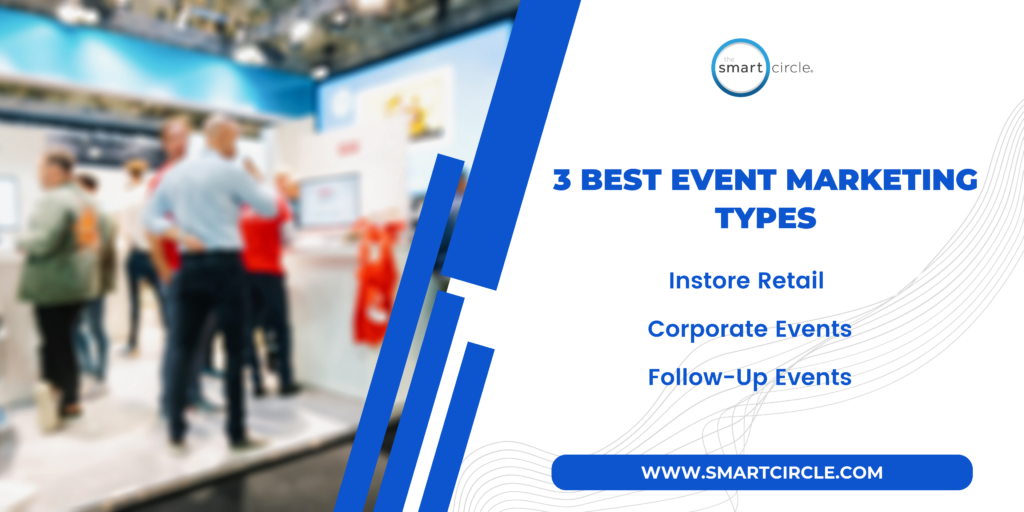 One significant aspect of event marketing is that there are many ways to deliver the perfect engagement and entertainment opportunity. A professional marketing team can determine which event marketing types are an excellent fit for your business and your target customers.
Browse the following three best event marketing types for inspiration or contact Smart Circle to develop a personalized event marketing strategy.
1. Instore Retail
Field events are small-scale, manageable opportunities for businesses to place their products directly in front of consumers. They may set up booths or product demonstrations inside retail stores, shopping malls, colleague campuses, roadshows, or other public places. Field marketing is one of the most successful event marketing types,. Depending on your audience, field marketing strategies could include product demonstrations, direct sales, lead generation, and product displays.
2. Corporate Events
Corporate events are similar to field events, except they are prepared and delivered for select corporate audiences. As a small or medium-sized business, it may be challenging to gain the chance to provide a presentation and demonstration to an office or its employees. However, marketing brokers may maintain robust networks of powerful businesses, allowing them to find a company that needs your products. In this way, companies may be able to strike lucrative deals with other firms or gain numerous customers at one-time.
3. Follow-Up Events
Some consumers are interested in your brand or products but may not bite immediately. Marketing and sales professionals ensure that they follow up on high-quality leads with customized responses. Follow-up event marketing is one way to strengthen a connection with interested individuals. They may be informal activities such as golfing or intimate discussions over dinners. These small-scale events allow all parties to get to know one another and strike personalized deals.
Extract the Most Value from Event Marketing Possible
When you engage in event marketing, ensure you make the best choice for marketing type, design, and execution. Smart Circle prepares and delivers customized face-to-face marketing campaigns. Our event marketing strategies will match your brand with your customers, directly targeting and appealing to their interests, tastes, and needs. Contact us today!