The customer experience is one of the most critical aspects of any successful marketing strategy. Companies must consider how they reach, how they interact, how they provide value, and how they deliver products or services to their potential customers. If customer determines their cumulative experience is positive, they will likely become repeat customers.
Customer experience is subjective, meaning each individual will interact with your business differently and formulate varied options. However, if you implement customized, in-person marketing strategies, you can appeal to more customers better. So naturally, every company desires that sort of leverage; this emphasizes the necessity of learning how face-to-face marketing can drive a positive customer experience.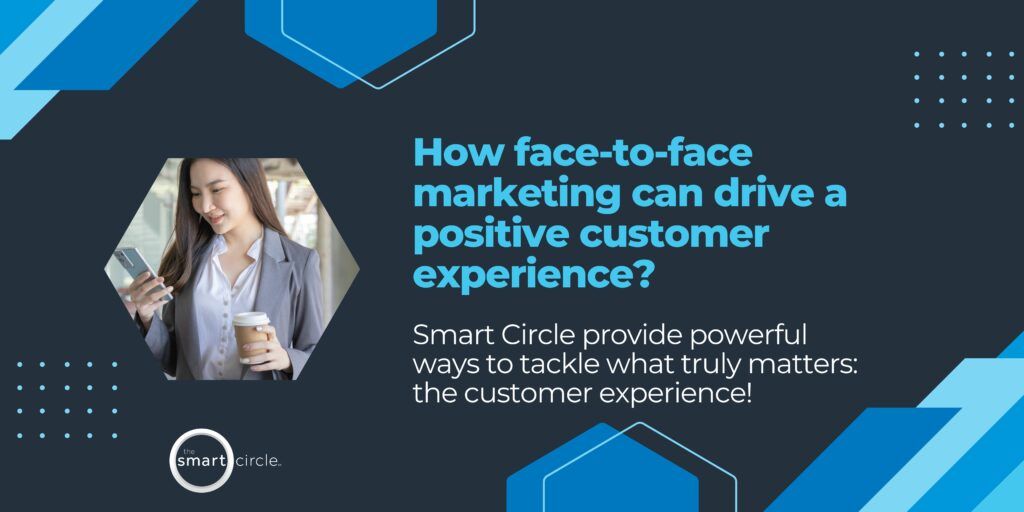 1 . Personalizes the Experience
Personalization is the key to any customer's heart. McKinsey & Company's Next in Personalization 2021 Report states that 71% of consumers expect companies to provide a personalized experience. Even more individuals become frustrated when companies do not deliver on personalization.
For this reason, many companies research their target audience to learn essential data and deliver targeted marketing campaigns. However, traditional forms of marketing such as sending pamphlets or postcards in the mail, drawing up an ad in a newspaper or magazine, or creating eye-catching signs are limited. Since they are static, they can only reach and appeal to a small target audience group. Alternatively, digital marketing can be more targeted given data feedback but often does not reach the customer due to how expansive websites and social media are.
Face-to-face marketing is powerful because it is based on actual consumer data, delivered directly to your customer in an amicable space, and tailored to your customers' needs right in the moment. The level of personalization is unmatched. Since this is the case, it can improve customer experience far better than any other type of marketing.
2. Effectively Communicates
Digital connections are becoming the norm for corporate-to-consumer communication. Unfortunately, while consumers enjoy the convenience and efficiency of online customer service, it does little for effective communication and genuine relationships. Neither party can hear a tone of voice, read facial expressions, understand body language, feel emotional energy, or recognize the true sense of the interaction.
When engaging in a face-to-face conversation, sales and marketing professionals can clearly ensure their customers understand their messages and meaning They can alter their demeanor, tone, and phrasings to communicate effectively with customers. In this way, there can be fewer misunderstandings or miscommunication. In addition, it ensures that potential customers have an accurate image of your company and your products rather than leaving it up to chance.
3. Understands Needs
In-person sales professionals make sure your customers' voices are heard and understood. While part of the battle is already accomplished through extensive research, data analysis, and targeted pitch creation, the magic of face-to-face marketing reveals itself in the moment. When they have a real-time conversation, they take the time to listen to prospective customers. Customers can ask questions, bring up concerns, provide insights or feedback, and tell their own stories.
Professional marketing and sales representatives can confidently respond in kind during face-to-face conversations. They can alleviate worries, answer questions, offer detailed explanations, or provide product demonstrations. When customers feel that a company truly takes time to consider them as individuals from the first interaction, they immediately understand that your company values its customers. Since their first impression is more favorable than a cold advertisement, they will ultimately rank their experience higher and better than other companies.
4. Makes It Easy
According to BusinessWire.com, 83% of consumers look for convenience in companies and their customer experience. So naturally, favorable consumer responses towards online shopping, fast shipping, accurate in-store inventory counts, and self-checkouts further emphasize this fact. In the same way, today's marketing tactics need to be easy to encounter. For example, suppose a customer needs to go above and beyond to discover your company, discover your values, understand your products, or learn how your company matches their customer identity. Then, they will walk away and find your competition.
Face-to-face marketing makes reaching and appealing to your target customer easy again. Outsourced sales brokers ensure that promotional events, presentations, demonstrations, or canvassing are set up exactly where your customer live, work and shop. If they love to shop in a particular retail store, a marketing professional with a display and demonstration will be waiting. A salesperson comes directly to their door if they are a businessperson who works all day in their shop Additionally, knowledgeable and creative marketing professionals develop excellent pitches designed for your audience and your product. In this way, marketing is tailored directly for your customer making it easy for them to notice, engage, and listen to the pitch or demonstration.
5. Provides Instant Value
One thing that continuously improves the customer experience time and time again is instantaneous value. It can be challenging to employ mass marketing or digital marketing methods. However, in-person marketing campaigns are perfect for it. Information packages, product demonstrations, brand ambassadors, meet and greets, launch parties, company tours, customer activities, free samples, or special offers and discounts can all be a part of the experience.
Apart from instant value, these in-person experiences also have long-lasting impacts. When marketing brokers focus on creating brand experiences during promotions, they help customers form emotional connections. This way, customers can view themselves as more than just a consumer of your products. They are involved in your brand in some way, namely as part of a community. These strong foundations allow for other excellent customer experiences and the formulation of positive brand relationships.
Enhance Customer Experience with Face-to-Face Marketing
If you want to increase conversions of first-time buyers to repeat customers, focus on the customer experience. With the expertise and experience of a face-to-face marketing broker on your side, you have the power to tap into who your target customer is and what they want and create a marketing campaign just for them. Contact Smart Circle for powerful ways to tackle what truly matters: the customer experience