Smart Circle International has recently been named as one of the Orange County Top Workplaces, and the best part about this award is that all the workplaces are chosen solely based on employee feedback! We could not have been more delighted at this news. Let's take a deeper look into what makes Smart Circle a top workplace. 
How Orange County Register Evaluate Workplaces
The Orange County, California, Register determines Top Workplaces, by taking feedback from the employees in a large collection of Orange County companies. It ensures that all feedback is quantitative and objective.
The employees are asked to fill out the Energage Workplace Survey. It's an anonymous survey that evaluates the company's work culture through the use of four (4) imperatives: Align, Connect, Coach and Performance. Each statement measures a different aspect of the company and then logs them into a database.
The survey also takes into account employee engagement, their leadership, and of course the basics like, culture, benefits, training, etc.  Finally, each participating Orange County business's survey results are compared to the Top Workplaces benchmark. These steps are how the Orange County Register evaluates top workplaces through a rigorous process of employee surveys. A workplace environment impacts the lives of the employees that work in it. Therefore, their opinion is the one that matters. Thus, this method carries credibility, and it presents a clear image of the company's work ethic. 
What Made Smart Circle One of the Top Workplaces in Orange County
2021?
Now that we've gone over how Energage evaluates workplaces, you must be wondering what we do that makes our employees so happy. Positive work culture and a focus on team-building activities help us achieve this benchmark.
Let's take a deeper look into both these factors.
A Positive Work Culture:
Most employees spend the majority of their day at the workplace. So, the environment must be positive for them, facilitating their creativity and productivity. Therefore, we work hard to ensure our environment at Smart Circle is a positive atmosphere.
It's crucial to maintain a work-life balance, and we always try to make sure that our employees' voices are heard. 
Focus on Team Building Activities:
To keep our employees positive, we also focus on team-building activities. Team building activities help our employees get to know each other better and therefore work better in teams.
We could have never gotten to where we are if we didn't have amazing teamwork within Smart Circle.
Special Thanks to Our Employees
We could never reach the title of being one of Orange Counties Top Workplaces if it weren't for our employees. Since this award is solely based on employee feedback, it means we are doing something right.
"We are honored and proud to be named one of the Top Workplaces for the fifth year in a row", says Jigna Patel, Smart Circle's Chief Operating Officer.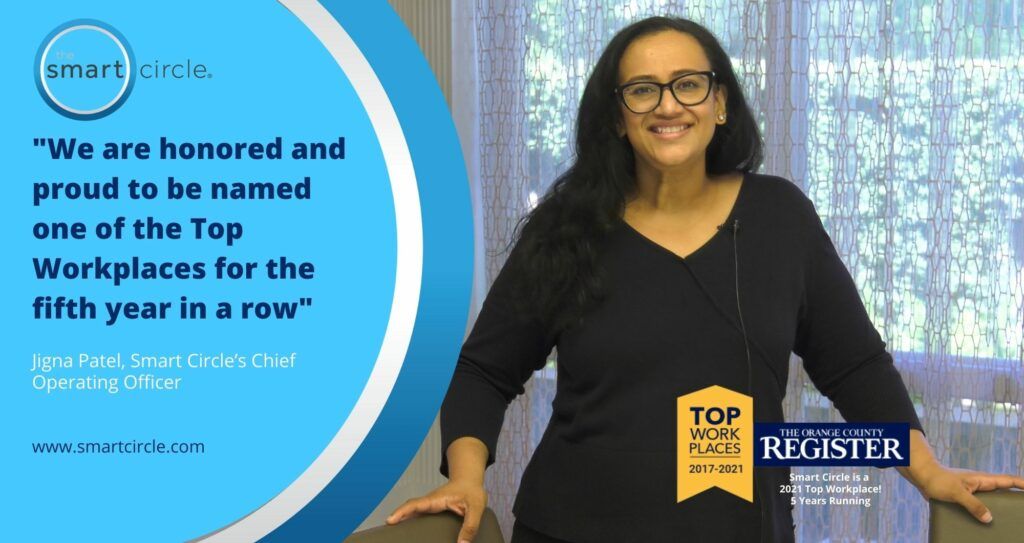 Smart Circle always keeps people at the forefront of our priorities, whether it be clients or our employees. We believe that any success comes from the people and because of the people.
Becoming the leading broker of outsourced sales is completely due to the hard work of our employees at Smart Circle. All the teams here aim to help our clients and the independent sales companies we work by implementing campaigns that produce growth for both our clients and independent sales companies.
And we could have never done this without such a brilliant team. So, we want to thank all our employees here at Smart Circle for always putting their best foot forward. 
Our Advice to New and Upcoming Companies
We have received this award for five (5) consecutive years, and so we have picked up a few tips and tricks along the way. First, no matter what kind of company or business you are in, your employees are what can make or break a business. Putting their concerns first is the key to becoming a great workplace, where people want to work.
The truth is without a working environment where you feel like you are valued, you cannot put out your best work.  By consistently improving your company's work culture and listen to your employees, Utilizing surveys is a great way to learn how your employees feel or what they believe should be improved in your company culture.
Remember, don't just send a survey as a formality, listen to your employees, and implement those changes as you can. Without the support of your employees, you can never reach the optimum state for your company. So, our advice is to always value your employees and create a culture where they can thrive.
Conclusion
Becoming one of the Orange County Top Workplaces takes consistent, hard work.
Smart Circle International prides itself on our positive work culture and our environment for our teams. Hopefully, this insight into our world helps you out as well!