If you are growing your business, you are undoubtedly putting in the hard work, doubling down on your dedication, and counting on that unwavering passion. As an entrepreneur, you may face numerous business challenges initially and throughout your journey. However, it is important to understand that with the right approach, you can overcome any obstacles that come your way.
At Smart Circle, we are committed to empowering entrepreneurs with the valuable resources and tools necessary for success. Today, we will provide our top five start-up tips and examples from other successful companies. If you want to learn how to grow your business, continue reading below!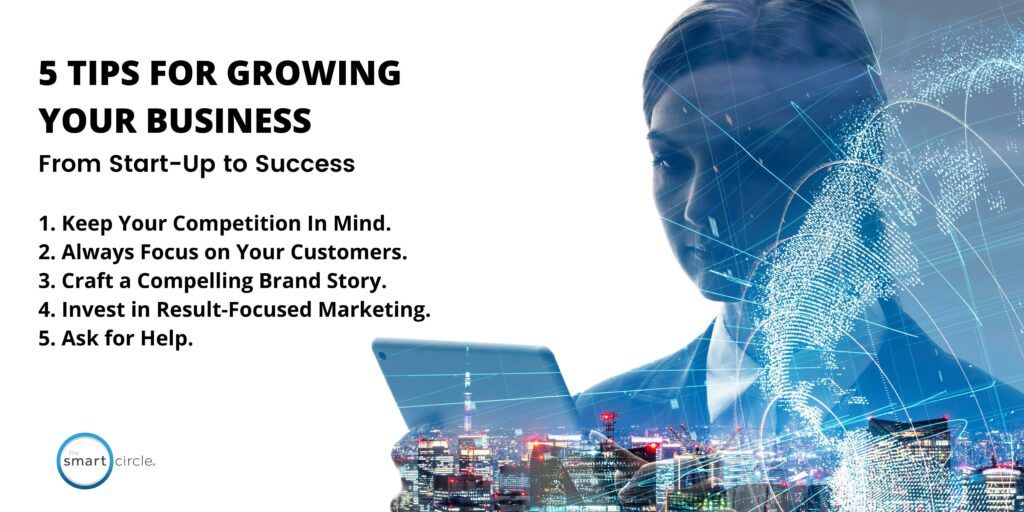 1. Keep Your Competition In Mind
Most of today's start-ups are entering saturated markets with plenty of competition. However, try not to let that thought scare you off as a business challenge. Instead, let it excite and inspire you; a saturated market has plenty of consumer demand, which means you may have a greater chance of success. Yet, you need to know how to leverage your unique value proposition and stand out from all the others.
That's where competitor research comes in – even if they don't have the same product, they may target the same audience. If you study their successes and failures, you can figure out where to emulate them and where to branch out. In this way, you can compete with them and even outperform them.
You can take TikTok, the video app, as an excellent example. They entered a saturated market in 2016, surrounded by giants like Instagram and Musical.ly. However, they still became one of the most popular apps today. They responded to consumer demand by making content creation easier, adding entertaining features, and incentivizing video creation.
2. Always Focus on Your Customers
One of the best start-up tips is to focus on your target audience. Many business owners try to convince their customers to purchase their products or services rather than cater to those customers. If you are fulfilling their needs, you will easily overcome any marketing challenges or customer acquisition concerns.
An excellent way to achieve this is to research your audience extensively. Learn about their personality, location, needs, values, and shopping habits. This information will help you market and sell your products in a way that speaks to your customers. Once you understand your customers, you can elevate your brand even further. You can provide a customer-centric experience that always makes your customer feel recognized and valued.
Starbucks is a company that excels at putting its customers first. Despite being one of many coffee shops, they prioritize the customer experience. They create personalized drinks, offer cups with your name, and provide exceptional customer service. Ultimately, their customers return to their establishment to feel special rather than just for their beverages.
3. Craft a Compelling Brand Story
If you are wondering how to grow your business in a consistent way, crafting a brand story can be effective. A brand story can help acquire like-minded customers by showcasing a powerful message about your business. It can also help your customers recognize and appreciate your business since they can count on your familiarity and dependability. This way, you can always count on a loyal customer base while you expand.
Your brand story should center around your values and promises to your customers. In addition, it should truly reflect your passions and commitments that propelled you to build a business from the start.
If you are looking for inspiration, look no further than Burt's Bees. In 1984, they started as a beeswax candle business dedicated to being earth-friendly and encouraging clean beauty. These values are at the forefront of everything they do, from their products to marketing campaigns and good-natured initiatives. They are well-recognized for their brand story, and their customers return repeatedly.
4. Invest in Result-Focused Marketing
If you genuinely want to learn how to grow your business, you must focus on your marketing strategies. Marketing challenges will directly impact your customer acquisition and sales numbers. Unfortunately, many start-ups and small businesses struggle with marketing, especially since the main channels, such as digital marketing and traditional media advertising, often need huge budgets and yield little return on investment.
Rather than focusing on the most popular marketing method, invest in a marketing mode that will genuinely engage your audience. Face-to-face marketing and in-person sales can be highly effective. You can tailor your approach to your customers, as sales professionals can interact directly with them. This will increase your chances of securing customers and sales.
You may know Tinder as one of the most popular dating apps today. Yet, they started just like any start-up business – small and needing an excellent marketing method. The chief marketing officer knew how to perform in-person presentations and demonstrations. She visited sororities on college campuses, installed the app on their phones, and then visited nearby frats to showcase their romantic prospects. She gained thousands of users after her first trip!
5. Ask for Help
One of the most important start-up tips is to ask for help regularly. In fact, seeking assistance is one of the smartest strategies to create a successful business. Since knowing and doing it all yourself is impossible, you can rely on others for their expertise, experience, or skills in various areas.
Small to medium-sized businesses may need help with marketing challenges in particular. They may not have the resources to accomplish specific tasks to compete with other companies, customize an effective marketing strategy, reach their target audience, or sell their products and services. Companies can efficiently grow and compete by accessing marketing and sales experts.
Many companies have sought the assistance of outsourced partners to address various business challenges or to streamline their operations. Microsoft is a prime example; they outsource their sales to US-based marketing and sales companies. They can rely on local sales professionals to prepare their campaigns for targeted locations without utilizing their own internal departments. In this way, they saw higher-quality sales and better results. It also allowed them to focus on other core competencies, leading to tremendous success.
Read more: 5 Sales Strategies for the Modern Business World
Smart Circle Is Here to Help You Grow and Thrive
Are you wondering how to grow your business? Our five start-up tips may come in handy. Your competition, customers, brand story, marketing, and partners are all keys to your success. If you can incorporate these into your plans, you'll see success in no time!
If you need help with your marketing strategies or campaigns, Smart Circle is always ready to help entrepreneurs start or grow their businesses. Get in touch with us today and see how we can help you!