Any business seeking sustainable growth wants to find an effective way to attract and delight new customers. Yet, converting a stranger to a customer to a loyal client to an enthusiastic promoter does not just happen by magic. You must make intentional, strategic moves that capture interest, draw in consumers, and keep them engaged. In other words, you must create a strong customer acquisition strategy. Follow along to learn precisely what customer acquisition entails and how to carry it out flawlessly.
What Is Customer Acquisition?
Customer acquisition is the process of making a stranger into a delighted, satisfied customer. Many businesses follow a customer acquisition funnel to stay on top of the consumer thinking process and optimize their marketing.
The funnel is a template outlining the phases a potential customer moves through before making a purchase. You can directly appeal to the customer while in those states, increasing your chances of attraction.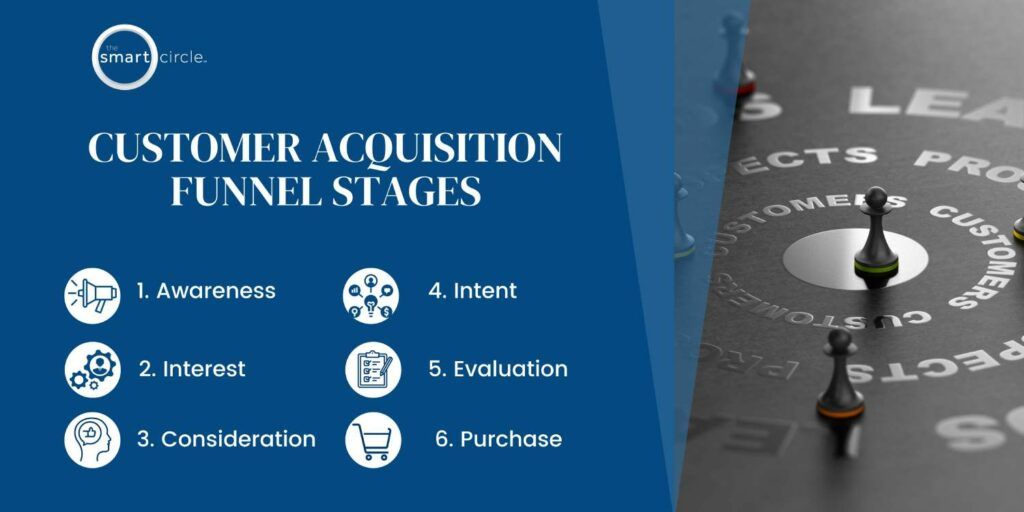 The customer acquisition funnel has six stages, leading directly into each other:
Awareness: Individuals become aware of your product or service, and your business. They may conduct their own research to accomplish this, or it may be a result of your marketing efforts.
Interest: Leads become interested in your product or company because it stands out from the other options in some way.
Consideration: Prospective customers learn more about your company and what you stand for or offer. They become more comfortable with the idea of purchasing a specific product.
Intent: People develop a strong interest in potentially purchasing the product. They may engage in product demonstrations or promotions.
Evaluation: Shoppers evaluate their potential purchase. They may weigh the pros and cons, compare it against a competitor, or assess whether they want to purchase this kind of product at all.
Purchase: They make the purchase and become customers. Some funnels may include continuous purchases in this category, while others include a seventh stage indicating a loyal customer.
What Is A Customer Acquisition Strategy?
The customer acquisition funnel may be about how customers purchase, but businesses can significantly influence the process. Accordingly, they can use the funnel to guide a robust customer acquisition strategy. This action plan uses the best marketing methods, tactics, and engagement tools to target and reach customers at every stage.
3 Ways to Create the Best Customer Acquisition Strategy
Companies need to consider customer acquisition in a way that works for their specific products, brand, and target customers. However, this can be challenging, especially if you are still figuring out where to start.
Simply put, every stage of the customer acquisition process is an opportunity for effective marketing. A customer acquisition strategy will help your products and company stand out in each phase and facilitate moving seamlessly through the funnel to become a customer.
Since a consumer takes approximately six steps before purchasing a product, you can use this information to attract and delight new customers. Let's look at the ways you can accomplish this below:
1) Attract Customers
Primarily; your strategy should focus on the awareness and interest stages of the customer acquisition funnel. You may also consider this phase the best time for lead generation. You may generate interest in your product, but follow up on those leads with other marketing methods.
Knowing your target audience, their preferences, and their shopping habits is important. If you can perform in-depth research on your prospective customers, you will have an easier time understanding effective ways of reaching and appealing to them. You may accomplish this by emphasizing how you fill their needs, solve their issues, mirror their values, or have already satisfied their peers.
Additionally, it is crucial to know your competition and their marketing methods. You want to stand out from the crowd to capture your audience's attention and hold it. Naturally, this may mean marketing in different or more targeted ways than competing businesses. For instance, in an increasingly digital marketing world, you may wish to diversify yourself by engaging in face-to-face marketing and in-person sales.
2) Convert Leads
Now that your customer is attracted and interested in your product, it is time to tackle your leads. One of the critical steps in the process is to turn them into prospective customers who are truly considering a purchase. The consideration, intent, and evaluation stages are excellent places to double-down on marketing efforts.
Consumers may be researching by reading reviews from current and past customers, comparing the products with your competitors, or signing up for more information from your company. However, since most of the research is self-motivated, meet your prospect halfway.
Digital marketing may have little effect on their decisions, both because there is a great wealth of information available online today and because competitors are readily available. However, in-person marketing is one of the best ways to convert leads. You can directly provide prospective customers with the information they need, offer free samples or trials, or perform product demonstrations. You can also have a genuine conversation with the prospective customer, answering any questions they may have at the moment.
It is essential to focus on delighting your prospective customer, as these stages make or break the purchase. In-store promotions and product demonstrations are among the best ways to target your leads, as you can meet them when they are in a shopping mindset. It increases your chances of securing a customer right at the moment. Since this is the case, your promotion should be tailored nicely to meet your prospect's needs. Again, this involves understanding your target customer to a great extent which may include performing more research, or surveying current customers.
3) Retain Clients
In the final stage of the customer acquisition funnel, the customer makes the purchase. However, your job as a company may not be complete. After all, you may turn this first-time customer into a loyal client or even a promoter of your product or company.  Now, it is time to focus on customer delight and satisfaction. For example, you may offer future purchase incentives, provide referral privileges, create a brand ambassador program, or VIP promotional events. These types of marketing campaigns can develop your customer culture, retain your customer base, and encourage new customers by word of mouth.
Smart Circle is a Leader in Customer Acquisition
Customer acquisition can be tricky, even if you understand the customer acquisition funnel and have great ideas for marketing strategies. When you need extra help with your customer acquisition strategy, turn to Smart Circle. Smart Circle is a leading broker of outsourced sales with over 40 years of experience creating successful and lucrative in-person marketing and customer acquisition campaigns for all types and sizes of companies. We guide our clients in putting their best foot forward and truly understanding the customer acquisition funnel.