All business owners want to gain customers and boost revenues; after all, this is the main reason for establishing a company in the first place. However, many businesses find they aren't where they want to be with new customers, sales, or retention. In response, marketing and sales teams need to develop a powerful customer acquisition strategy. It allows them to find, engage, and attract new customers while keeping loyal customers coming back again and again.
The first step in this process is creating smart customer acquisition goals. Objectives provide a clear image of success for the business, and from there, relevant action plans can generate consistent results. Furthermore, goals often help identify better leads and drive higher customer conversions.
Since this is the case, it is wise for every business to learn how to set and achieve goals for customer acquisition. As a leading broker of customer acquisition services, Smart Circle is here to help. Let's look at the most important steps below: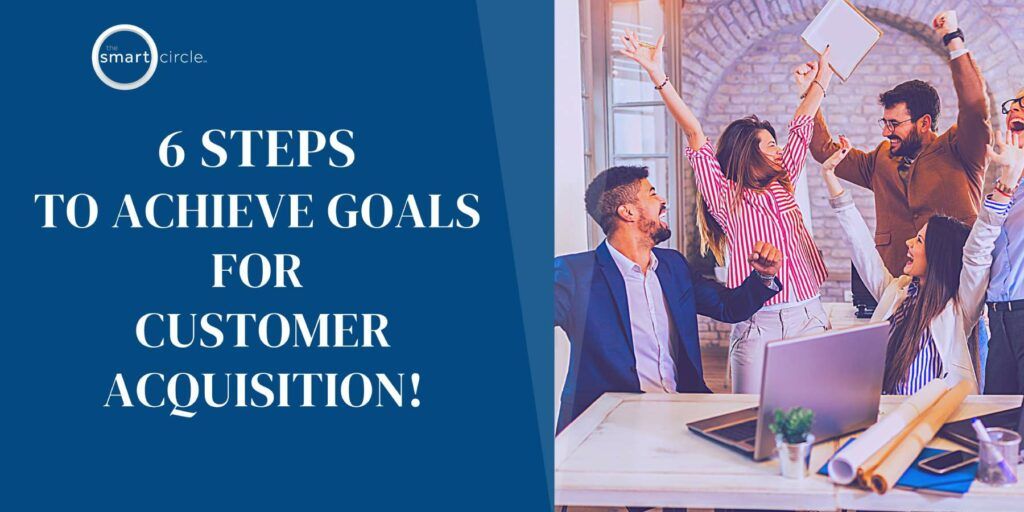 1. Account for Customer Churn
Many businesses cannot reach their revenue targets; in many cases, they set their sights on high numbers because they only consider their current growth rate. In this light, their earnings goal may be ambitious but certainly achievable. Yet, they did not factor customer churn into their formula, so they fell short of their objective.
Simply put, customer churn, also known as customer turnover, is the loss of customers. If looking at the initial revenue goal with customer churn now in the calculation, it seems wildly unattainable. It is a relatively significant difference or gap. Any realistic goals will take churn into account. This way, they set better goals and can plan precisely how to reach those targets rather than grasping at straws. If the company is large and diverse, it can break its customer turnover into manageable categories. For instance, different products may have different audiences. Going forward, teams can focus on sectors that see the most customer loss.
Likewise, a corresponding customer acquisition goal and strategy reflects how a business will regain old customers and decrease churn. In this way, they will not need to address large customer losses or seek enormous customer acquisition every year. They will be able to keep a relatively stable base of satisfied clients and be able to grow from there.
Try Asking: How many customers does the business need to gain, accounting for customer churn and current growth rate, to hit the revenue target?
2. Define the Target
Companies may have multiple types of customers, but attempting to appeal to everyone often fails. Businesses do not have enough resources to extend to each customer group, nor would they be able to pay enough attention to the groups that truly matter. Instead, they should determine which customer group is the most important, what they represent to the company, and who they are as consumers.
Customer acquisition primarily deals with customer groups currently considering the products and services. So, businesses may already have the marketing data necessary to drive a better conversion strategy. They can also tap into information from competitors and the industry to understand specific buying behavior, personalized marketing responses, and optimal brand experience or relationship markers.
Once teams narrow their target customers down to a specific group and collect the relevant data, they can focus on goal setting. Ultimately, as they can better understand who they want to acquire, they can set superior marketing and customer acquisition goals. Then, they can develop precise ways to reach their targets.
Try Asking: What types of customers does the business need to acquire?
3. Identify Acquisition Channels
Businesses should seek to understand the target consumer, where they shop, how they shop, and what they look for in a product and company. Once they gather this information, they can think about which channels and methods may work best to convert potential customers to satisfied clients. While they will flesh out the details in their strategy, a general idea can result in a more clear-sighted customer acquisition goal.
Channels are how businesses meet customers, promote products, and drive conversions. Numerous channels fall under traditional advertising, in-person marketing and sales, and digital marketing umbrellas. However, some work better than others for reaching groups and landing clients. In particular, face-to-face marketing and in-person sales drive the most conversions and launch valuable brand relationships. Additionally, they have the most significant effect on customer acquisition numbers compared to other channels.
Try Asking: Which channels will pull in the newest customers?
4. Keep Customers
Excellent customer acquisition goals consider how to please and delight customers long after the initial conversion. It should be transparent throughout the customer acquisition journey, as clients want to know how a business will treat and continue to serve them. It also helps customers easily choose the company over the competition, as most businesses only consider building a brand experience after purchase.
Furthermore, if goals for customer acquisition involve brand relationships, businesses may be able to decrease customer churn rates significantly. Since developing a positive bond with prospects is at the forefront of their strategy, customers feel seen, heard, and valued from the beginning. They receive more than just great products, so they are more likely to stay loyal for a long time.
Try Asking: How can our brand engage customers on a long-term basis?
5. Sustain the Energy
Marketing teams should not look at customer acquisition strategies as short-term campaigns, although these may very well be a part of their overall plan. Short, intensive marketing can be incredibly helpful for raising brand awareness, boosting new customers, and increasing revenues. However, goals for customer acquisition should be sustainable and continuously achievable.
Since this is the case, all goals should be specific, measurable, and time-bound. In this way, businesses genuinely understand if they can step up to the plate and repeat it. Additionally, they can use their past metrics, customer information, and industry standards to set realistic numbers.
Try Asking: All things considered, are the goals sustainable, repeatable, and realistic?
6. Measure the Results
Businesses should also establish how often they evaluate their progress, what they will use to assess it, and how often they should make changes based on performance. These principles may not be necessary to create the current customer acquisition goals; however, they will help establish if their goals and corresponding action plans are successful down the road.
Helpful metrics may include Conversion Rate, Customer Lifetime Value (CLV), Monthly Recurring Revenue (MRR), Customer Acquisition Costs (CAC), Churn Rate, Purchase or Order Frequency, Order Value, and Referral Sources. Companies may also use direct data from customers, such as through surveys, questionnaires, and interviews.
Try Asking: How will the business evaluate progress?
Achieve Your Customer Acquisition Goals with Smart Circle
With over 40 years in the industry, Smart Circle knows how to set effective customer acquisition goals and develop responsive customer acquisition strategies. We work to drive customer conversion rates and revenues, while setting the stage for long-lasting relationships and retention. Want the same for your business? Contact us to learn more about how we can help you and browse our blog for more expert guides.