In today's hyper-competitive global marketplace, businesses, as varied as a two-person startup to multinational conglomerates, must compete for customer attention and, ultimately, their dollars. Customers equate to revenue, which ultimately impacts a company's bottom line. For this reason, customer acquisition is quite possibly the single most important business-critical initiative for any organization.
Customer acquisition is all about turning as many high-value consumers (or businesses) as possible into loyal customers. When effective, it provides an ever-increasing client base and can reduce the overall cost of acquiring customers, increasing customer lifetime value (LTV), and purchase frequency.
What is customer acquisition?
Customer acquisition is the process of gaining new customers and selling products or services to them. Customer acquisition accomplished via a marketing funnel, that begins with brand awareness and continues until there is a purchasing decision made.
Customer acquisition takes many forms, such as paid digital ads on Google and Facebook, affiliate programs, email, or traditional media such as TV, radio, and direct mail campaigns. However, none of these strategies have the power that face-to-face marketing has demonstrated to capture consumers' attention and guide them into buying decisions.
While many businesses spend heavily on customer acquisition campaigns, one of the most significant advantages of face-to-face customer acquisition programs is the loyalty they engender and their cost-effectiveness. Companies that utilize in-person sales campaigns are much more effective in their efforts to emotionally connect to consumers, leading to greater trust and relationship-building. Ultimately this helps organizations increase the LTV of their customers while ultimately reducing the cost of acquisition and retention.
The advantage of face-to-face marketing and customer acquisition campaigns
For businesses that want to attract customer attention and increase customer acquisition, face-to-face sales is one of the most potent ways to achieve these goals. There are several advantages for using face-to-face customer acquisition campaigns, including:
Consumer Engagement
Face-to-face customer acquisition campaigns are incredibly effective for emotionally connecting with consumers, inspiring trust, and building customer relationships. It also can provide critically important feedback regarding consumers' feelings about product usability or objections simply by asking questions and engaging with them directly.
Increased Brand Awareness
Consumers are more likely to recall a particular brand or business if exposed directly to it via face-to-face sales initiatives. They'll also be much more likely to choose that organization over competing brands when it comes time to make a purchase decision.
In-person product demonstrations
For businesses offering complicated products or services, face-to-face customer acquisition campaigns that include in-person demonstrations can be particularly effective. When consumers interact directly with an organization's products and services, they're much more likely to feel confident about making purchasing decisions.
Engenders Trust and Credibility
Customer acquisition campaigns are most successful when they connect with consumers in an emotionally meaningful way through face-to-face experiences. Face-to-face customer acquisition campaigns can be hyper-local, regional, or national in scale and target both B2B (business to business) and B2C (business to consumer) markets.
Customers expect more than ever; they don't want to buy products; they also want to engage with brands. Therefore, businesses that demonstrate their customer-centricity by prioritizing customer engagement are the ones most likely to make sales and drive revenue.
Four ways Smart Circle helps companies acquire customers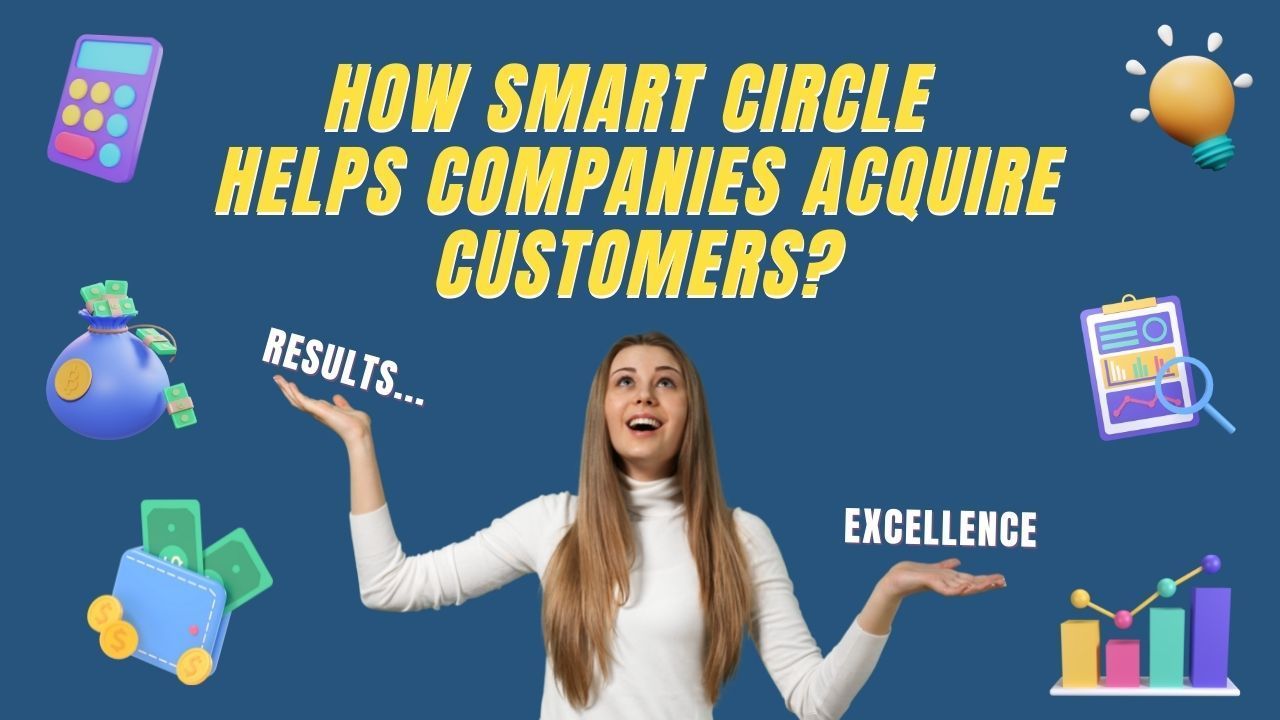 What makes Smart Circle unique is how we help companies acquire new customers. In a sea of competitors that all offer the same PPC campaigns, direct mail offers, or media buys, Smart Circle develops world-class face-to-face customer acquisition initiatives and connects its clients to a nationwide network of professional independent sales companies. Closely collaborating with their clients on their goals and business strategies allow Smart Circle to design highly tailored, in-person marketing solutions that quickly achieve a wide breadth of influence and scale. As a result, faster market saturation is accomplished in a variety of ways:
In-store retail
One of the most advantageous ways to reach consumers is to be where they are. Smart Circle accomplishes this by connecting its clients to vast network of independent sales companies and in-store retail channels to bring client products and services direct to customers at the point of purchase. Visibility and customer engagement are integral to a customer acquisition strategy. Collaborating with industry-leading retailers through face-to-face experiences provides consumers with a heightened level of personal attention that is not achievable through traditional advertising media.
In-store demo
For brands that want to get mass exposure for their offerings, nothing's more convincing than seeing a great product or service in action. Smart Circle collaborates with highly regarded retailers and provides highly targeted acquisition strategies.. These campaigns help boost brand awareness and increase customer acquisition by prompting sales that ordinarily would be impossible.
Door-to-door
Smart Circle provides additional benefits to its clients through highly customized door-to-door sales initiatives. Utilizing targeted demographic research as the starting point, Smart Circle delivers its clients' products and services directly to the customer's doorstep by connecting clients to professional, local independent sales companies.  These in-person canvassing initiatives share strategically tailored marketing messages with the right consumer in a way that is not achievable through traditional media buy.
Business-to-business
Businesses can't do it alone; they need other businesses to survive. That's where Smart Circle comes in, helping expose their clients' offerings to new customers at their place of business. This in-person customer acquisition strategy effectively generates awareness by bringing clients' brands to their target customer base via the businesses for which their offerings are designed. This strategy is also very conducive to re-engaging with idle leads or clients.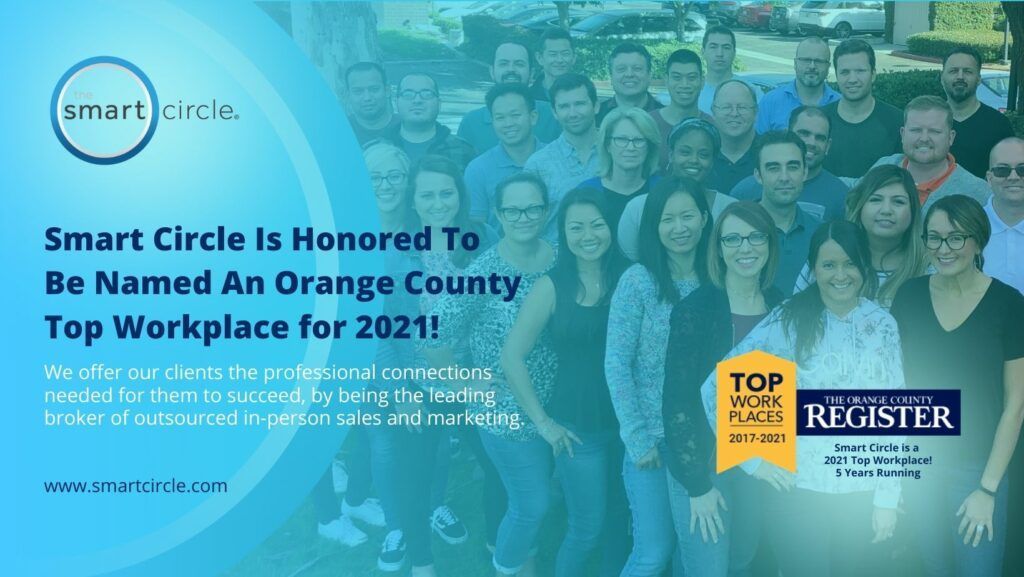 Smart Circle is an industry-leading broker of premium face-to-face marketing and customer acquisition solutions with its vast nationwide network of independent sales companies and highly skilled professionals.  Partnering with Smart Circle gives businesses of all types and sizes the ability to connect with and engage with their customers wherever they are in a way that isn't achievable through traditional media or marketing campaigns. With decades of experience implementing highly successful customer acquisition initiatives, and a commitment to integrity and teamwork, fueled by an entrepreneurial spirit, Smart Circle is the go-to customer acquisition partner for innovative and forward-thinking organizations.
Read More: 
Best Strategies to Increase Employee Engagement