You may have heard the saying, "You never get a second chance to make a first impression." When introducing your business to your target customers, these wise words should be your guiding light. No matter what your marketing strategy is, your customer can and will gather a multitude of information from their first encounter with your brand. Whether that information is enough to keep them interested, attracted, and engaged with your business is another story.
Accordingly, the type and quality of your marketing will matter a great deal. Likewise, the content and your delivery method can make all the difference. One of the best ways to achieve this is through outsourced face-to-face marketing. Working with industry experts in face-to-face marketing can help you establish strong brand awareness, create credibility, and trust, and initiate genuine brand relationships.
Establish Strong Brand Awareness
If your business is just beginning to grow, getting your target audience to recognize your brand can be challenging. First, you may not have the same resources your competition has to advertise efficiently and effectively. If this is the case, it can be hard to reach your potential customers and stand out from the crowd.
Second, the advanced digital age has presented even more challenges for entrepreneurs. Impressions now matter more than ever before, so it is essential to perfectly play into your customer's hand. Your customers can find any product or service within a few taps or clicks on their devices. So, naturally, if you can't supply what your consumer needs, you won't stay on their minds.
Customer acquisition experts know precisely how to achieve the reach you need, the best marketing approaches for your business, and how to help you exceed your customer acquisition goals. They know exactly who your target audience is by tapping into extensive research data. They know their day-to-day shopping routines, expenses, challenges, and goals in this way, In this way, outsourced sales brokers, like Smart Circle, have relationships with retailers to get your product displayed inside highly trafficked stores and work with a network of independent sales companies who are experts in face-to-face marketing directly to your customers.  If retail does not interest you in your marketing strategy, Smart Circle can also meet your clients where they live and work with our unmatched door-to-door customer acquisition campaigns. Ultimately, we do not only place your business right in front of your client, but we also cater directly to consumer shopping habits.
Moreover, Smart Circle can do this on a much larger scale than a startup, small or medium-sized company can do. If a national or continental approach is appropriate for your marketing strategy, we have the resources to spread your brand across major markets.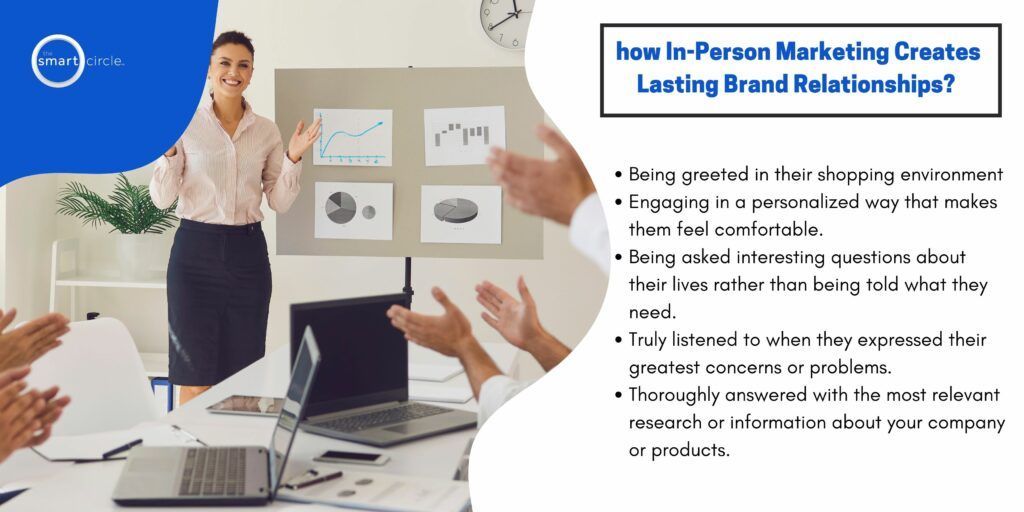 Create Credibility and Trust
One of the most critical factors when connecting with your clients is establishing credibility. When customers trust and believe in what you have to say, they are more likely to emotionally invest in your company, continue to purchase products or services and recommend your business to others. That said, credibility can often take a long time to build as a company. Unless you already have years of service under your belt, it is not an easy feat to achieve. Unless, of course, you establish outstanding first impressions.
Luckily, with the salesforce that Smart Circle partners you have the opportunity to do just that. Imagine your customer:
Being greeted in their shopping environment rather than bombarded by an advertisement.
Engaging in a personalized way that makes them feel comfortable.
Being asked interesting questions about their lives rather than being told what they need.
Truly listened to when they express their greatest concerns or problems.
Thoroughly answered with the most relevant research or information about your company or products. Being offered the service or product right then and there Ultimately, that customer walks away with an excellent experience from your company. Your brand genuinely cares about them as individuals and their desires and needs.
Initiate Genuine Brand Relationships
It was easy to associate a brand with an object in the past. Today, your brand is not only your services or your products. It is the complete experience your customer has when they interact with you as a business. Although you may put your heart and soul into providing the best services or products, you may not make great first impressions unless you crush the brand relationship aspect.
Customer service and marketing may be just one part of your empire for your business. Yet, for Smart Circle, it is their whole business. They know how to cultivate greater engagement with your specific target audience in multiple ways. First, they develop a tailored in-person sales and marketing strategy which may involve one or more marketing channels. Second, they research target audiences and establish exactly how your business meets their needs. Third, they develop a unique face-to-face marketing campaign for that audience incorporating their beliefs, values, goals, and challenges. Finally, individuals begin to see a valuable connection between your brand and themselves by appealing to their sentiments.  Depending on your brand, you may make them feel relaxed, inspired, important, among many other things. When they invest in your company, they are not only buying what you are selling; they are purchasing that feeling and connection repeatedly.
Wrapping Up
Every interaction your business makes with an individual is a chance to create a loyal customer. As such, first impressions matter a great deal. At Smart Circle, we help your business put their best foot forward as they begin a strategic marketing journey. As a leading broker of outsourced sales, we can help you establish brand awareness on a large scale, create credibility amongst your target audience, and initiate brand relationships with your clients. Click here to find out more about the Smart Circle Difference.