Today, marketing needs to be strategic to reach potential and current customers. It also needs to appeal to those target customers, engage them, keep them interested, create the lead, or make the sale. Given that customers operate in a fast-paced, multi-faceted world, it makes sense that businesses struggle to achieve effective marketing through one channel or one method. If you rely on one form of marketing, you risk missing potential customers or disengaging, neglecting, or miscommunicating with potential and current customers. Since this is the case, it is crucial to consider a multi-channel marketing strategy to attain sales goals and improve sales over time.
Smart Circle, a broker of outsourced sales, reflects this sentiment in our marketing methodology; we create and curate multi-channel marketing strategies for companies and corporations. A custom multi-channel marketing plan uses many different forms of marketing to reach more customers, improve brand awareness, increase sales, and scale businesses. When you consider this approach, your business will be displayed right where your target customers are, which will generate business buzz and brand awareness. When adding in-person marketing into the mix, a salesperson can speak to customers while in the buying mentality and tailor a unique marketing approach drawn from data about that customer by engaging in discussion with the unique individual.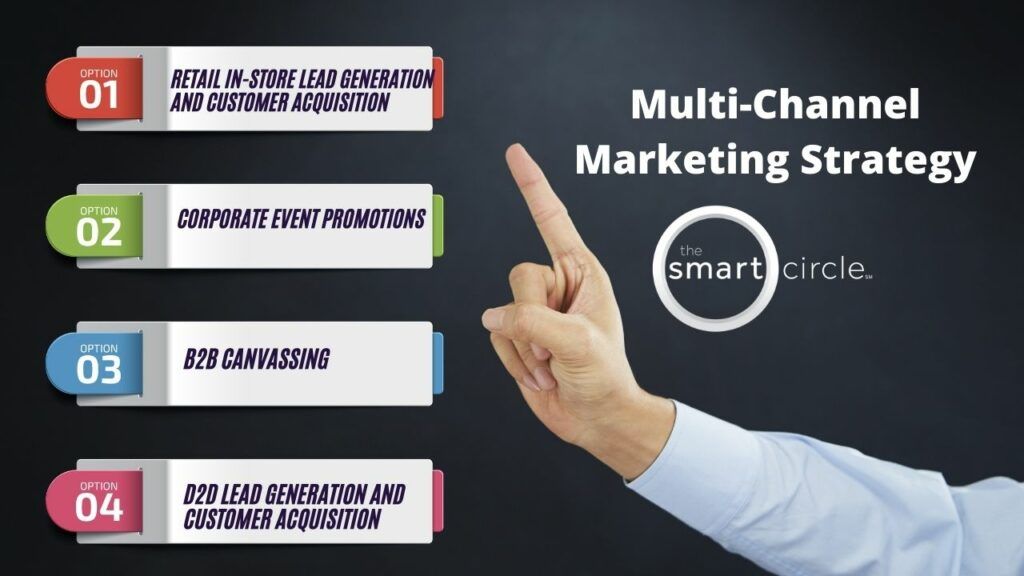 At Smart Circle, we use a variety of face-to-face marketing channels that may include retail in-store lead generation and customer acquisition, event promotions, business-to-business (B2B) canvassing, and door-to-door (D2D) lead generation and customer acquisition. As a business, you may be curious about how each of these channels can improve sales and how bringing them together into multi-channel marketing can maximize sales goals.
Retail In-Store Lead Generation and Customer Acquisition:
The in-store face-to-face marketing strategy provides businesses and their products a presence inside prominent retailers. Companies promote their products, service, and brand to thousands of active shoppers with this approach. Business exposure with products and service in these retail locations can improve sales all on its own by generating interest in your company, giving customers aesthetic and informational visuals about your products, and creating first-time customers. Yet, adopting multi-channel marketing and combining this with other forms of marketing will further incentivize customers to consider and try the product or service, build brand awareness, and start brand relationships on the right foot.
These results from face-to-face marketing in retail stores can establish an excellent foundation for building reputation, trust, and credibility. Since your business will be displayed in a well-known, credible establishment that people frequent and rely on, it will already have a level of trust. Furthermore, the in-person marketing aspect allows people to get to know your company personally and understand how it meets their needs and desires as a consumer. In this manner, your business builds ongoing customer relationships and brand loyalty.
Corporate Event Promotions:
Face-to-face marketing at corporate events is an excellent way to promote businesses to consumers with targeted interests and greater buying power. When companies are introduced to thousands in specific working environments, marketers have the chance to curate marketing to that particular group, highlight advantages for their group, and genuinely connect with customers, prospects, and potential partners.
Event promotions are an excellent way to generate significant leads for your business. Leads that have an exceptional potential to turn into sales and long-term customers, especially if multi-channel marketing has been utilized. When following up on leads, in-person marketing may be the next logical step to securing customers with significant buying power. In this way, marketers can appeal to the client personally and increase the chances of their investments.
B2B Canvassing
When your business is involved in multi-channel marketing, business-to-business canvassing may be one ideal marketing channel. Imagine having the power to take your product/service inside of businesses that need and will utilize your product/service the most. You can not only build first-time brand exposure, but you can also bring back lapsed customers in this way.
While on its own, business-to-business canvassing can incur more significant amounts of sales, it is essential to retain customers' interest once they have seen your products or purchased your products. Multi-channel marketing allows you to make customers remember who you are and recall your name when thinking about your particular product niche. In this manner, you can increase long-term loyalty with your company which makes both retaining sales for your existing products and gaining sales for new products a breeze.
D2D Lead Generation and Customer Acquisition
Sales can be significant when businesses enact customized and targeted door-to-door lead generation and customer acquisition Marketers will conduct research and analyze data to approach the right individuals and families. Doing so cuts down on potentially wasted time and directly targets parties interested in your business and your products. While other forms of marketing appeal to large bases of people at first, door-to-door marketing speaks to individuals right from the get-go.
When sales professionals show up at the door, they will tailor their marketing strategy to fit the unique individual, asking them questions, answering their concerns, and showing them the precise reasons, they should invest in your products. The best advantage of in-person marketing is that it creates brand awareness and a brand relationship directly with the customer, increasing the chances of securing the sale right from the beginning or provoking high-interest leads. When combined with other methods from a custom multi-channel marketing strategy, the customer will not only have a great idea of your business, but they will also already have encountered your business on a personal and meaningful level.
Moving Forward with Multi-Channel Marketing
Multi-channel marketing gives your business a unique opportunity to create a large number of first-time customers and pull back a great amount of lapsed customers. Yet, it can also accomplish something that most companies struggle with; it can establish brand awareness and brand relationships right from the beginning. While most companies have trouble appealing and engaging customers on a high level, multi-channel face-to-face marketing allows customers to garner meaning from your business and your products. They will not only become familiar and gain trust in your business in credible locations, but in multiple places and with various methods. They will also encounter in-person marketing which allows them to directly engage with your business.