Sales and marketing have a certain ring to their names, calling up visions of customer acquisition and engagement; likewise, business owners may have dreams of greater revenues and less expenses. Yet, in-house sales and marketing teams may need help to achieve these goals. In many situations, it can be best to outsource sales and marketing to a professional broker.
An increasing number of businesses are turning to brokers of outsourced sales for their expertise, state-of-the-art resources, networks and channels, and flawless executions. In return, they positively alter the future of their company.
Are you considering outsourcing sales? Let's find out the top 8 reasons why businesses outsource sales and marketing and how it could help them in their long-term success. In this way, you can decide if it is the right move for you.
8 Reasons To Outsource Sales and Marketing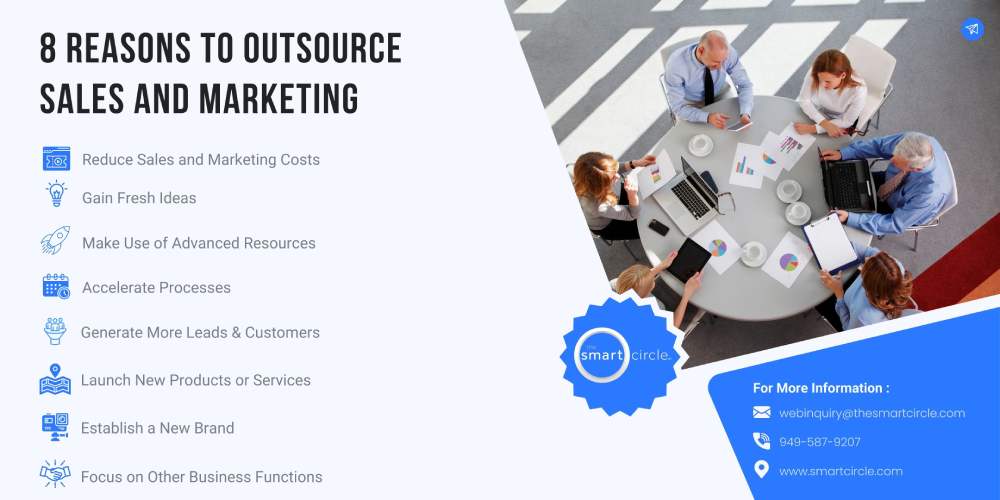 1. Reduce Sales and Marketing Costs
One of the main reasons why businesses outsource sales and marketing is to reduce overall business costs. It can be expensive to hire professionals with sufficient knowledge and experience, pay out a team consistently throughout the year, and acquire the proper resources to execute a campaign. Yet, when businesses outsource sales, they can take advantage of a qualified team without investing in hiring, training, or labor costs. Likewise, they can tap into the industry's best resources, databases, and networks at a fraction of the cost. Ultimately, this allows businesses to keep their in-house team small.
2. Gain Fresh Ideas
Companies may have run successful marketing campaigns for years yet suddenly experience declining customer acquisition and sales. Additionally, new businesses may believe they have a strong grasp on their audience but see disappointing results. In these cases, it may be wise to outsource sales and marketing.
Professionals can acquire the latest data on the consumer group, extract insights directly from the information, and prepare new marketing campaigns. Their outside perspective on the product, combined with their knowledge and experience, can foster exciting, effective ideas.


3. Make Use of Advanced Resources
Businesses may have multiple assets, but they may find it difficult to obtain and maintain a marketing, lead generation, customer acquisition, or sales resources. Outsourced sales and marketing brokers specialize in this domain.. Likewise, they only hire the best market analysts, marketing creatives, and sales professionals and invest in their continuous training. Furthermore, they nurture valuable partnerships and maintain multiple marketing and sales channels. A business harnessing this kind of power can obtain better short- and long-term results.
4. Accelerate Processes
Small-to-medium-sized businesses may need help rolling out a marketing or sales campaign quickly. They must collect data, analyze their reports, pull out insights, develop ideas, build a complete marketing strategy, design campaigns, and carry out those activities. Since it can take months for in-house teams to complete this process correctly, they may neglect industry or consumer group changes along the way; they may also miss out on new marketing opportunities or trends. This is one of the main reasons why businesses use an outsourced sales broker, as an expert team can develop and implement high-quality plans in a short amount of time.
5. Generate More Leads & Customers
Lead generation is essential for long-term business growth and expansion; the more people who are genuinely interested in a product or service, the more businesses can count on steady customer acquisition and sales. Yet, it can be challenging to harness promising leads without a dedicated team, effective campaigns and scripts, and new generation tactics and rebuttals.
Alternatively, businesses can outsource sales and marketing to revamp or optimize lead generation. These teams know exactly what it takes for a company to stand out in its techniques, reach potential customers, and increase appeal and intrigue about products and services. This way, businesses can reap the benefits of promising leads and convertible customers.
6. Launch New Products or Services
When a business launches new products or services, it may need to start from scratch with its marketing strategies. They must perform extensive market and industry research, look into consumer behavior, and focus on the extraordinary features of their product. They must also spend considerable time developing and testing potential campaigns. Since this is the case, outsourcing sales and marketing can be a smart move.

Brokers for outsourced sales and marketing have the resources and teams to accomplish this efficiently. Furthermore, they often have cross-industry and product marketing experience, allowing them to develop optimized campaigns faster. Accordingly, businesses benefit from more successful launches, greater brand awareness, and faster customer acquisition.
7. Establish a New Brand
Start-up companies or businesses entering a new market must establish their brand. It can be extremely difficult to accomplish this, as customers gravitate to familiar businesses and often ignore unrecognizable companies. Likewise, business owners and their teams may be unaware of how to generate brand awareness, encourage brand recognition, and appeal to their target consumers. As such, this is a frequent reason why businesses outsource sales and marketing.
Outsourced marketing teams know how to develop marketing strategies that help a business catch consumers' eyes, stand out from competitors, and generate buzz around its products or services. In this way, they can promote widespread brand awareness. They can also use personalized marketing and sales techniques that speak directly to the customer, inspire genuine relationships, enhance the customer experience, and build trust.
8. Focus on Other Business Functions
Many large businesses or enterprises may use an outsourced sales broker because they want to dedicate their time, energy, or money to other business functions or domains. For instance, they may see immense potential in their production, yet, they must pull back focus on another department to accomplish their goals. Or, they may have a struggling department requiring their undivided attention and their strongest teams. Accordingly, they may choose to outsource sales and marketing. When they partner with a reliable broker of outsourced sales, they can rest assured that their teams will do all the heavy lifting in this department. Then, they can receive the appropriate briefings or reports, sign off on ideas, and realize the benefits.
A Broker of Outsourced Sales and Marketing Can Help You
While these are the main reasons why a business may outsource sales and marketing, practically any company could benefit from an outside team with expert knowledge, skills, and experience. If you are ready to discover the advantages for your business, contact Smart Circle today!